Rising in the East
Saturday, June 28, 2014


Mùa xuân hè vừa rồi chúng ta đã thấy sự bùng nổ của xu hướng Oriental print (hoạ tiết phương đông). Cũng như sự phủ sóng mạnh mẽ của những chiếc kimono cách điệu Nhật Bản tràn ngập khắp sàn runway, lookbook của những thương hiệu lớn cũng như được khoác lên người những fashionista trên khắp đường phố thế giới. Thật ra xu hướng này đã bắt đầu nổi lên từ mùa thu đông năm 2012. Những hoạ tiết cây cỏ, hoa lá đặc trưng Á châu, những chi tiết cách điệu như Mandarin collar (cổ tàu), cùng màu sắc hết sức rực rỡ nổi bật như tôn thêm làn da trắng của các quý cô. Điều này đã làm mê mệt giới thời trang châu Âu và thế giới, và không lâu sau chúng đã xuất hiện đường hoàng đầy diễm lệ trên sàn runway thế giới với những thương hiệu lớn như Jason Wu, Emilo Pucci, Valentino, Balenciaga etc.

___________________
As seen in the last spring/summer season, Oriental print has marked a new trend on the runway and the street of Western countries. Ladies love to dress up like modern geisha with the flowy kimono jacket. This trend became popular since Fall/Winter 2012 but until Spring/Summer 2013 it was like a real bomb. The beauty of Asian-inspired patterns like dragons, flowers, cranes, lotus covered everything from pants to jackets.
Còn riêng với mình phải thú nhận rằng đây là trend khiến cho mình mê mệt nhất từ trước tới giờ luôn. Những hoạ tiết Á đông đẹp một cách bay bổng và đồng thời cũng mang lại một nét gì đó sexy, bí ẩn cho người mặc. Mình kiểu như phát cuồng trong việc săn tìm kimono jacket cũng như những item có hoạ tiết như thế. Vốn đã là người châu Á mà còn thế thì chả trách gì giới thời trang quốc tế lại chao đảo vì xu hướng này. Mình mặc 2 chiếc kimono với 2 tông màu khác nhau, một tông sáng với hoạ tiết chim én, chiếc còn lại tông tối hơn với nền đen và hoạ tiết hoa. Có thể được áp dụng cho look ban ngày và look buổi tối nếu như bạn cũng là một tín đồ của xu hướng này như mình =D
___________________________
Although I'm not a trend-follower but I have to admit this Oriental print got me falling in love at first sight. I'm obsessed with it to be honest. I can't help myself collecting many kimono jackets with different patterns. No wonder everyone is so crazy about this trend like that. I wore 2 different kimonos with bright shade and dark shade. The bright one has birdy pattern on it, would be perfect for a day look because of its softness. In the other side, the dark shade is covered with eye-catching floral pattern would be so gorgeous at night.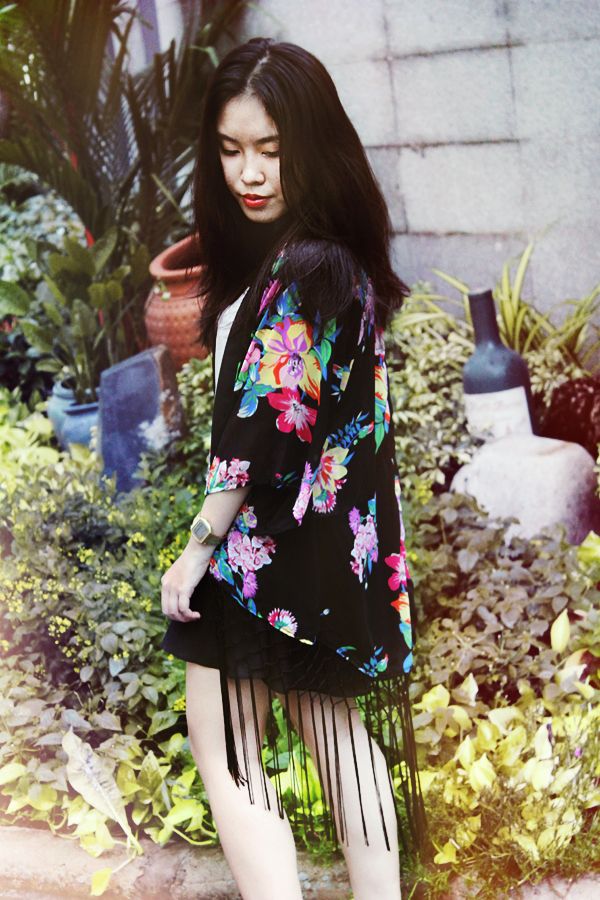 ( Kimono jacket: Forever 21/Dress: Thrifted/ Cami: Tommy Hilfiger/ Shoes: Thrifted)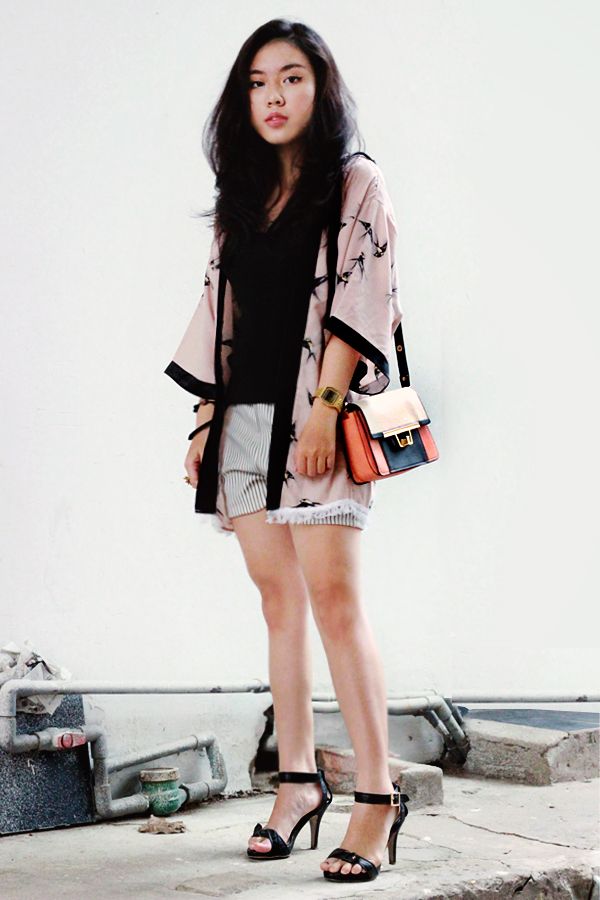 (Kimono jacket: Gingham/ Cami: Thrifted/ Striped short: Flea market/ Bag: Zara)